Welcome to Jupiter Health Bunbury, you can find us at Shop 26, The Parks Shopping Centre, 1 Brittain Rd, Bunbury WA 6230
Our Opening hours
Mon – Fri 9am-5pm
Public Holidays Closed / Sunday Closed
Tel: (08) 9720 4600 Fax: (08) 9720 4645

• Chronic illness treatment; some examples for chronic illnesses which we manage are hypertension, diabetes, hypercholestermia, COPD and asthma.
• Organising your management plan and team care plan.
• Skin Cancer Check/Skin cancer surgery (with regular checks and keeping photos of your skin lesions so we are able to follow up regularly and notice any early changes)
• Immunisations (children and adults and children health assessments)
• Women's health & Men's health
• Pre-employment medical examination and driving license medical examination.
NOW OPEN SEVEN DAYS

SAME DAY APPOINTMENTS
SKIN CANCER CLINIC
BULK BILLING PRACTICE
Jupiter Health App helps you find a Jupiter Health clinic near you, and book your appointment on-the-go,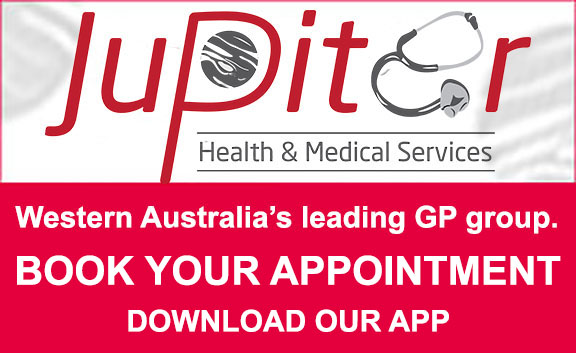 Jupiter Health Bunbury, you can find us at Shop 26, The Parks Shopping Centre, 1 Brittain Rd, Bunbury WA 6230
Our Opening hours
Mon – Fri 9am-5pm
Public Holidays Closed / Sunday Closed
Tel: (08) 9720 4600 Fax: (08) 9720 4645